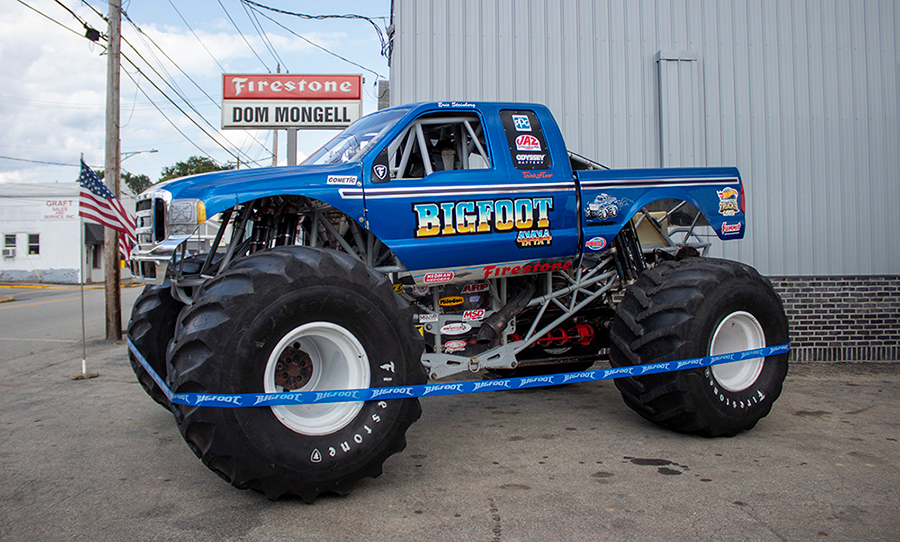 Summit Racing Equipment BIGFOOT
Body – Fiberglass Desert Race Truck
Chassis – Concussion Motorsports
Engine – 565 c.i.
Tires – Firestone 66″ x 43″ x 25″
Axles – ZF
Shocks – 8 Custom Nitrogen Charged
Transmission – Abruzzi 2-Speed
Fuel – Methanol
Weight – Approx. 11,000 lbs.
This BIGFOOT chassis is the newest member of the Team BIGFOOT fleet.  It was completed on December 24, 2014 and did its first live event in Southaven, MS (Memphis, TN) on January 9th and 10th, 2015, winning a race and freestyle that very first weekend out with legendary driver Dan Runte behind the wheel and even winning the Toughest Monster Truck Tour Championship that first year (and again the next year).  It employs many of the features that made the earlier BIGFOOT #18 successful, with some tweaks and improvements.   It has a low center of gravity chassis, long-travel shocks, and an even longer wheelbase than the earlier BIGFOOT trucks.  This BIGFOOT also utilizes "zoomie" headers, giving it a very loud and unique sound as compared to other BIGFOOT trucks.  Veteran driver Larry Swim won the 4-Wheel Jamboree Series in 2016 and the Toughest Monster Truck Tour in 2018 in this truck.  They are currently touring the United  States.
Truck Viewing – 12:00pm – 4:00pm (Saturday & Sunday)

BIG FOOT MONSTER TRUCK is brought to the Scottdale Fall
Festival by Mongell Tire, a family owned and Operated
Business since 1957.