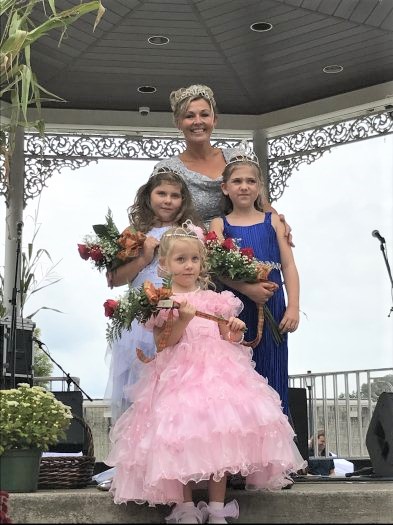 Just as the leaves of fall colorfully change the backdrop of our lives, the Scottdale Fall Festival will be again beautifying it's annual festival with the Return of Royalty to it's offerings over the three day festival weekend.
Committee Chair: Jennifer Schwartz- Flack, holding this title of Scottdale's fall festival queen twice, once in 1985, and then again in 1993. She recognizes the need to enhance the self esteem of our young ladies & youth in general. Highlighting their strengths and feeling as if they are a part of something special is our main priority, in addition to being involved in community events and giving back. The girls all sell ballots which serves as votes for them, as did the contests of years prior sold membership tickets.
The past Queens, Duchesses, and other royalty will be requested to make an appearance at the Return of Royalty coronation ceremony which will be held on Friday September 2017 beginning at 4:30pm, and immediately following the newly crowned court will be present for the opening ceremonies for the annual festival.
Registration opens June 1, 2017 for the Scottdale Fall Festival Queen Contest!
Contest will be open to all girls currently enrolled in the Southmoreland School District.
3-7 years old -Lil' Miss Scottdale (Judging in areas of 1 & 4 only-See below)
8-12 Scottdale Fall Festival Princess
13-18 Scottdale Fall Festival Queen
There will be four areas of judging in addition to selling a minimum of 100 tickets ($2 each – ALL proceeds benefit Scottdale Fall Festival)
1 – Stage Presence, Poise & Grace
2 – Ambassador to the Community – contestant must have completed a community service project prior to the contest and submit it in writing before Sept 1st.
3 – On Stage Question
4 – Tickets Sold – winners will be crowned at the coronation ceremony on Friday September 15, 2017.
The royal court will be celebrated on Saturday in the annual parade. Winners in each category will receive a year dance scholarship to Ever After Dance Academy. All participants will receive a certificate of participation, a swag bag of goodies from local businesses, winners in each category will receive a trophy & dance scholarship.
To enter your child please email Jennifer – sffqueen@gmail.com or text 724-953-9733
Include:
Full name of contestant & parents name