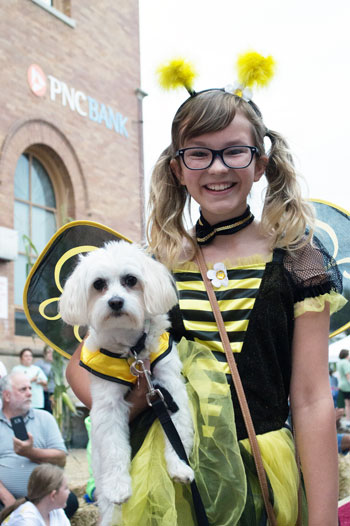 The Scottdale Fall Festival is holding their 14th annual Dog Show Sunday, September 23, 2018, at the Children's Stage. Registration for the show will take place from 2:30 pm to 3:00 pm on Sunday. Returning this year is the Red Carpet Dog Walk for "Divas", "Studs" and "Mutt Strut" (costumes required). Prizes will be awarded to the top "Diva", "Stud" and "Mixed Breed". As in previous years, the dog show will start with the dog parade around the gazebo at 3:00 pm. Pampered Pet Palace will provide category prizes in the form of gift baskets. There will also be door prizes provided by the Scottdale Fall Festival.
Prize Categories for 2018:
(Red Carpet Dog Walk)
Top Diva
Top Stud
Top Mixed Breed
plus……
'Greatest' Super Hero
Paternal Twins (Look-a-likes)
Smallest Paws
Best Tricks (Up to 3)
Longest in Length (Tip of nose to end of tail)
Most Patriotic Pooch (Costume Required)
ALL DOGS ARE WELCOME, BUT MUST BE ON A LEASH!
So, bring out your best friend for a howling great time!
Cost is $10 per dog, checks can be made payable to Scottdale Fall Festival. Each pre-registered dog is guaranteed a doggie bag (donated by Muddy Paws Pet Supply of Mount Pleasant). Availability of doggie bags on same-day registration while supplies last.
On Sunday, September 23rd, simply come to registration area on Stoner Street between 4:30 and 6:00 p.m. to pick up dog's show number, a ticket for the door prizes, and a doggie bag.
PLEASE BRING PHOTO ID FOR VERIFICATION IF YOU PRE-REGISTERED!
ENTER YOUR PET INTO THE SCOTTDALE FALL FESTIVAL DOG CONTEST!!