GENERAL INFORMATION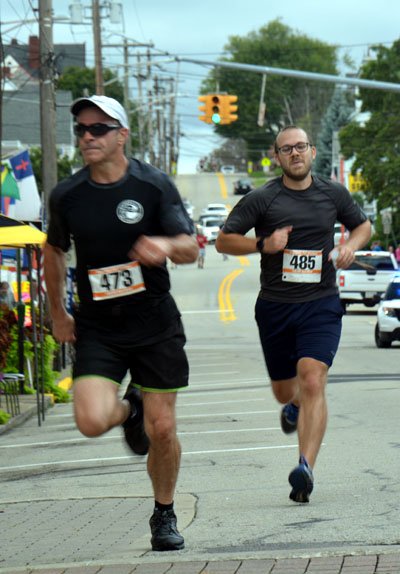 Race time is 9:00 AM on Saturday, September 22nd.
START/FINISH:
Start and finish is on Pittsburgh Street in front of the Elks.
SIGN-UP:  224 Pittsburgh St.
START/FINISH: Pittsburgh St in front of Elks.
COURSE: Challenging course ( Big down hill (3/4 mile) finish.
10K: Most of the old YMCA Spring Race course (3 water stations)
5K: Most of the 10K course (2 water stations)
POST RACE: Fruit, pizza, and beverages will be served. $3 food booth tickets to all participants.
AWARD CEREMONY: Awards celebration after the race behind 224 Pittsburgh St.
TIMING: Dave Mapes Timing Service
ENTRY FEE: $22 before September 21 and $25 the day of the race.
T-SHIRTS: Quality. technical fabric long-sleeve T-Shirt! T-Shirts are guaranteed to all-pre-registered participants only. Random prizes will be available to all pre-registered participants following the race. Winners must be present. Absolutely no refunds.
ADDITIONAL INFORMATION: Call 724-887-7899 or 724-972-1518
Results & race coverage by iPlayOutside.com
EARLY REGISTRATION: Thursday 9/20, 5 PM to 8 PM at Gazebo, and Friday 9/21, 5 PM to 8 PM at 224 Pittsburgh Street.
CASH AWARDS
Overalls: $ 75 / 50 / 25
Age Groups: $10/7/5
5K Run/Walk Overalls: $30/15/10
Age Groups: $7/5/3
Start and finish on Pittsburgh Street in front of the Elks. Sign-up is at the Festival Stage on Stoner Street (between the Elks and National City Bank) between 7:00 AM and 8:55 AM. In case of inclement weather, sign-up will be at 224 Pittsburgh Street. The awards ceremony will be behind 224 Pittsburgh Street ASAP after the race.
NOTE: Stay and watch the Parade (12 noon) after the race.
SUGGESTED PARKING
SES school (across from Loucks Park off of Chestnut Street) which is 0.5 miles from the sign-up. Another option is to park on residential streets.
If you are a walker or slower runner, please line up towards the rear at the start.
The second water station in the 10K will also have HEED sports drink.
Please use the recycle barrels if applicable.
Competitive walk: Race walking means you must have one foot on the ground at all times. (There will be spotters on the course and anyone caught running will be disqualified!)
Awards fro school age racers will be fee adjusted race applications for next years race! (Fee adjustment corresponds with race placement award.)
For a video race course tour, go to: http://youtubescottdalefallfestivalrace
Click this link to ENTER TODAY!
IF YOU PREFER TO DOWNLOAD THE ENTRY FORM AND SEND IT VIA US MAIL. USE THIS FORM